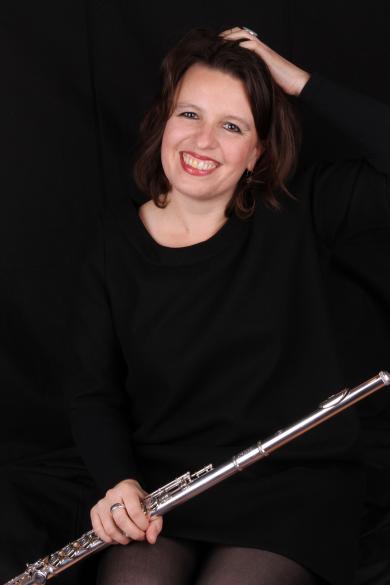 Beatrix Wagner studied flute with Prof. Dr. Richard Müller-Dombois at the Hochschule for music Detmold from 1989 to 1996. She was later awarded scholarships by the state of North Rhine-Westphalia and the Office Franco-Allemand which enabled her to spend the year 2000/01 in Paris and pursue her studies with Philippe Racine. This proved highly influential, as did her participation in master classes with Robert Aitken, Robert Dick, Carin Levine and Istvan Matuz. As solo flautist with the Schleswig-Holstein Music Festival Orchestra during her student days, Beatrix Wagner played under such distinguished conductors as Herbert Blomstedt, Dimitri Kitajenko, Gunther Schuller and Krzysztof Penderecki, participating for example in the European premiere of Penderecki's 5th Symphony. She won several international prizes, for instance the Kuhlau Competition for Flautists in Uelzen and the Wind Competition in Kerkrade (Netherlands) in 1996.
In 2001 she founded "Ensemble Reflexion K", Germany's northernmost contemporary music ensemble, which has performed its own concert series in the Baltic resort of Eckernfoerde since 2002.
In 2006 and 2007 Beatrix Wagner took part in establishing the two Schleswig-Holstein festivals of new music "chiffren - kieler tage für neue musik" and "ProvinzLärm Eckernfoerde". From 2008 to 2010 she has taught and trained the young musicians in the newly formed LandesJugendEnsemble für Neue Musik Schleswig-Holstein.
Beatrix Wagner is in demand as a soloist and a chamber musician in Germany and abroad. She receives invitations from ensembles such as Ensemble Modern, MusikFabrik NRW, Kammerensemble Neue Musik Berlin, Ensemble Aventure, SurPlus and Insomnio (Netherlands). Concert tours have taken her around Europe, Asia and North and South America. She has been a guest at festivals including the Schleswig-Holstein Music Festival, the Darmstadt International Summer Course for New Music, MaerzMusik Berlin, the Westphalian Music Festival, the Bludenz Festival of Contemporary Music (Austria), the Transit Festival in Leuven (Belgium), Tres Cantos in Madrid (Spain), New York Philharmonic Biennial, ICMC Singapore, SICMF South Korea, NYCEMF Festival New York, "IV. Gara Garayev" Festival 2011 (Azerbaijan) and Roaring Hoofs (Mongolia). She has appeared at a variety of concert halls, among them the Cologne Philharmonic Hall, the Concertgebouw Amsterdam, the St. Petersburg Philharmonic Hall, the Seoul Arts Center, the Opera in Ulan Bator, the Sala Zitarrosa in Montevideo (Uruguay), the Centro Cultural Parque de Espa–a in Rosario (Argentina), the Sala Alberto Williams in Buenos Aires and the National Sawdust New York.
Beatrix Wagner has made radio and CD recordings for BR, SWR, WDR, MDR, NDR, RB, Deutschlandfunk and DeutschlandRadio, and for the ambitus, col legno, Coviello, NEOS, edition zeitklang and mode records/New York labels.
Both of her solo CDs "positions" (2003) and "Spiegelungen" (2011) won critical praise for its bold exploration of extremes, both musical and programmatic. She collaborates closely with composers whose compositions she is performing and enjoys weaving her way between and crossing into other art forms.
Recently she occupies herself also with the dulcimer, a musical instrument often used in the folk music of the Alpine region, and performs Walter Zimmermann's "Das Gras der Kindheit" (2006) for dulcimer and singing (1 person) on it.
Since 2014/2015 she has recorded various portrait CDs of the composers Gerald Eckert (2), Peter Gahn, Nicolaus A. Huber (2), Natalia Solomonoff and Emiliano Turazzi together with the Ensemble Reflexion K and mostly in cooperation with Deutschlandfunk and the Bavarian Broadcast , of which "Gerald Eckert - on the edges" (mode records/ New York) was nominated for the top list of the German Record Critics' Prize.
In the spring of 2019 Beatrix Wagner and New York based cellist Madeleine Shapiro formed the Duo Be.Mad dedicated to the newest music for flute(s), cello and electronics (fixed media / live processing / video).
In February 2022 she will premiere Gerald Eckert's concerto for contrabass flute in G, orchestra and live electronics as a soloist and will be on stage as a featured performer at the New York City Electroacoustic Music Festival in June.